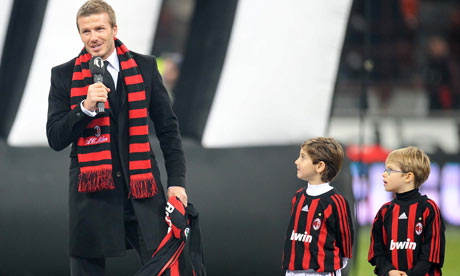 Despite his expressed interest to remain in Italy, it appears that David Beckham will return to the Los Angeles Galaxy for the 2009 MLS season.  The Friday February 13th deadline for a trade deal, which was set by MLS Commissioner Don Garber, has come and gone without A.C. Milan making an acceptable offer for Beckham.   Galaxy's GM and Coach, Bruce Arena, stated that: "we did not receive an acceptable offer for [David Beckham].  As a result, David remains an LA Galaxy player and we look forward to having him back with the club starting March 9."

As Arena's statement indicates, Beckham is on loan with Milan until March 8, which means there is more time for a transfer deal to be brokered, one that could possibly include Beckham enhancing the transfer fee with money from his own bank accounts.  If all the parties involved in this little soap opera really want to get a transfer deal done, it would be in their best interests to go about it quietly, for all the press these past weeks did nothing but cause distraction and stir the pot.
Beckham's recent statement that "at Milan I have found great players who have been of great help to me" sums up the heart of the situation.  While he may be one of the best known soccer players, Beckham is an excellent player with a good set of skills, but he is not in the pantheon of greatest soccer players ever, and, more importantly, he is not the kind of soccer player that can carry an entire team to victory, no matter the circumstances.  Beckham is a team player, in almost the purest sense of the term.  Yes, he is a star persona off the pitch, but on the pitch he excels when he is working with capable teammates – he best operates in an ensemble, not as a soloist.
If things continue on this path, then we will see Beckham return to our shores in a couple weeks and do another tour of the MLS, heck, we might actually see him in Houston in this time.  Beckham is a professional, and while he might not be happy playing for L.A., he'll suit up without complaint and take the pitch, and the Galaxy probably won't make the playoffs again.  Then again, maybe Arena will be able to develop a squad and a strategy that compliments Beckham's skills and doesn't expect him to be the team's savior and top goal scorer.  With the return of Beckham, the Galaxy would be smart to transfer Landon Donovan to Bayern Munich, permanently, and take advantage of the transfer fee and salary cap room to improve the rest of its squad.  Get a backline that won't be so porous and get some strikers who can take advantage of crosses and passes from Beckham.
There's still a couple weeks left for something to happen, but for now I'm looking forward to watching the Derby della Madonnina on Sunday.